Welcome to Mundekulla Retreat Center
"Fronteers of sustainability since 1998 "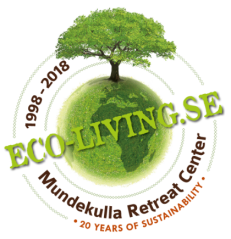 ... In the Valley of Peace
Mundekulla, with its calm and peaceful surroundings, is a perfect place for mindfulness, yoga, retreats and even festivals and events up to 300 participants where the secluded surrounding offer a supporting atmosphere. Many of our visitors describe Mundekulla as a little paradise where the only thing you hear is the sounds of nature. The creative atmosphere with music and art also makes it an inspiring and beautiful place for courses and events. Mundekulla is internationally renowned and located 10 kilometres outside of Emmaboda in southern Sweden only 3 hours directtrain from Copenhagen airport as well as Stockholm and Gothenbourg. We mainly offer events from 50–300 participants See our calendar >>

A Sustainable Foundation
Our entire facility was built on ecological principles, with warmth and care, uniting the past and the future. Our main building is a carefully restored house from the 1820s. The site offer a varied and beautiful landscape surrounded by old forests, creeks and freshwaterponds (for swimming) as well as with walking paths. Our property rests on 60 hectares (150 acres). Our facilities include four beautiful meeting halls, the largest of which is 240 square metres, a unique wood burning sauna, a spa, a hay/clay house (meditation room) and 30 guest rooms, with a total of over 125 sleepingspaces in five different buildings on the site. The roof of our barn is clad with 120 square metres of solar panels and all of our rooms are insulated with sustainable material. Read about our work for Sustainability >>

Upcoming English speaking events, 2019
For the complete program at Mundekulla Retreat Center, see the Swedish calendar.
New Warrior Training – ManKind Project
The next English speaking event at Mundekulla is New Warrior Training – ManKind project, October 18-20, 2019 (for men).

About the course:
The New Warrior Training Adventure is a modern male initiation and self-examination. We believe that this is crucial to the development of a healthy and mature male self, no matter how old a man is. It is the "hero's journey" of classical literature and myth that has nearly disappeared in modern culture. New Warrior Training Adventure is the starting point of your work. The work to become more aware of your strengt and your weakness, of your courage and your fear, and to experience the man you want to be. Our training is where you will be invited to do your own work with the full support of many men who will be there for you and holding you in a space you've never experienced before.
Read more and sign up here.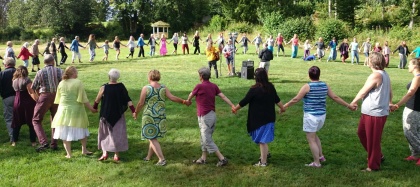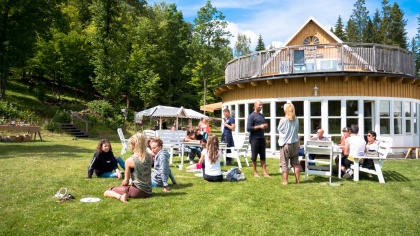 Inner Peace for Peace...
We believe that real change starts from within, when you choose to see the beauty and the truth, when you fill your heart with love and your mind with peace. From this perspective, we can see the new world in every moment. It all starts with the little things each of us do. When we choose to nourish our inner peace and take time in stillness, that peace will radiate into our surroundings and out into the world. When we sow seeds of love wherever we go, we can see them grow and flower and flourish. When we take small daily actions to care for the earth, we help changing the world, little by little. We love meeting so many wonderful visitors from all over the world, who bring inspiration and the knowledge that it is possible to make a difference in the world.


Creativity – Art, Music and Dance
Mundekulla is a place where creative projects flourish. Our creativity is mostly focused on inner and outer peace and on how we can live together in harmony on this planet. Music, singing and dancing are natural parts of all of our events. Anne Solveig and Peter Elmberg, the founders of the retreat center, are both creative people, sharing their art, music and musicals in different ways.


Welcome to Mundekulla
We welcome you to experience Mundekulla and its beautiful surroundings by participating in a course, retreat or festival. Mundekulla can also be booked as a venue for yoga workshops, festivals and different kinds of retreats. With 20 years of experience in running events, as well as over 20 rooms, dormitories and large meeting halls, we can accommodate groups up to 100 people indoors and 300 including tents! Our entire organization is built and run in a sustainable way.