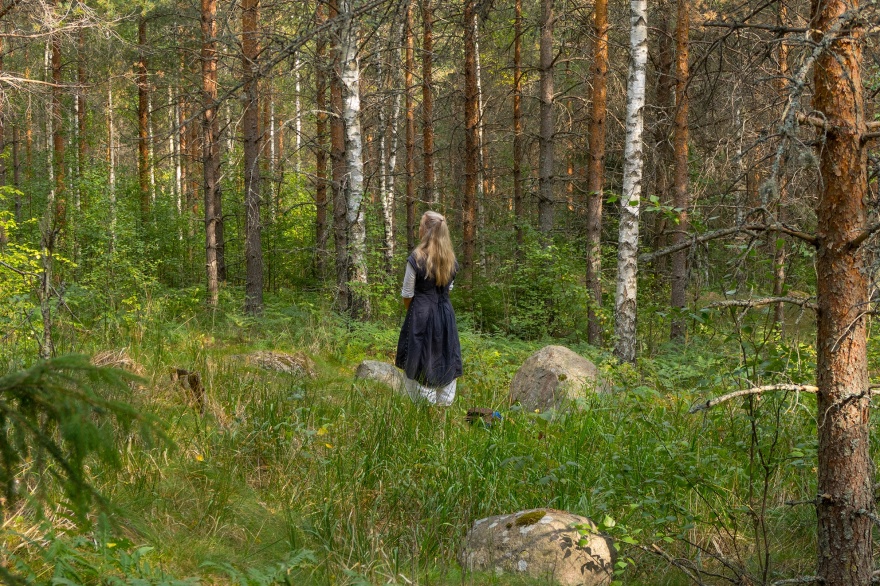 Utbildning till Certifierad Skogsbadguide och Skogsterapiguide, 16 - 22 maj 2019
(Certified Forest bathing Guide and Certified Forest Therapy Guide Training)
Kursledare: Petra Ellora Cau Wetterholm, Alex Gesse och Shirley Gleeson
Välkommen till en fördjupande retreat och professionell utbildning i upplevelsen av läkande naturkontakt och i konsten att guida
(Programmen hålls på engelska med möjlighet till svensk översättning.)

The European Forest Therapy Institute (EFTI) invites you to experience a professional and cutting edge training, immersion and practise in Forest Bathing and Forest Therapy. It is designed for you who wish to receive an in depth nature connection and develop your own expertise in the art of guiding others. It combines the benefits of a guided nature immersion retreat with a professional training programme, embracing practical skills, theory and scientific findings from three European based leaders with particular expertise in the field.

The programs will be held in English with availability for Swedish translation.

Presently we offer two pathways for training: Forest Bathing and Forest Therapy. These two paths have earlier been considered to be more or less the same, but are from now on, separated through some essential differences found and defined as we move into new frontiers and important venues of our work in this field.

Allow us to present these two practises and paths briefly. We hope we will provide enough information for you to sense and decide what path may be more suitable for your particular background, personal wishes and professional aims. Please feel free to contact us with any further questions and to sign up.

The EFTI Certified Forest Bathing Guide
This is a 1 week + 3 months training and practise for you who wish to experience and guide others to a sensory nature connection, inviting stress prevention and relaxation, wellness and restoration. The first 7-day intensive retreat combines the benefits of a guided nature immersion with a professional training programme, embracing your own immersion, practical skills, theory and scientific findings. It is followed by a 3 month mentored practise where we guide you to deepen your own nature connection and develop your guiding skills.
The training flow:
EFTI - Certified Forest Bathing Guide
7 days intensive training + 3 months mentored practise (internet based) – Certification
Price: 18 950 kr
Datum: 16-22 maj 2019

The EFTI Certified Forest Therapy Guide
This 3 days + 3 months training and practise is for you who have completed the program of a Certified Forest Bathing Guide. It serves as an extension of and builds further on the 3 month Certified Forest Bathing training. It is designed for you who wish to explore and develop your professional guiding skills and move your Forest Bathing expertise from an evidence based, nature assisted wellness and preventive health care practise, to a treatment intervention and rehabilitation support. It is followed by another 3 month mentored practise where you are supported to deepen your expertise further and integrate it into areas of health treatment and rehabilitation.
The training flow:
EFTI - Certified Forest Therapy Guide
3 months Certified Forest Bathing Guide training + 3 days professional Development Training + 3 months mentored practise (internet based) – Certification
Price: 25 500 kr
Datum: Datum: 30 augusti - 1 september, (Stockholm)

Read more about the course here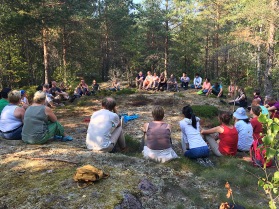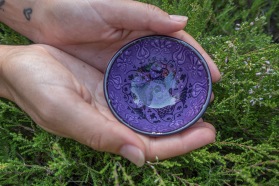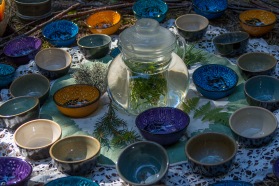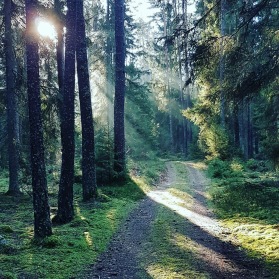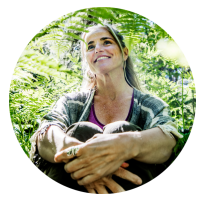 Petra Ellora Cau Wetterholm is a certified Guide, Trainer and Mentor. She works as a Licenced Clinical Psychologist and a Mindfulness Facilitator of MBSR and MBCT. Her work is influenced by her background in the performing and visual arts and many years spent at a Zen Buddhist Temple. As the founder of Shinrin-Yoku Sweden, Petra facilitates and develops Forest Bathing and Forest Therapy programs and trainings around Sweden and abroad. She has extensive post graduate training in neuropsychiatry, mindfulness based psychotherapy, CBT, ACT, Stress Prevention and Rehabilitation. She is presently pioneering in Sweden by implementing Clinical Forest Therapy in Primary Mental Health Care, for adults diagnosed with Exhaustion Disorder, anxiety and depression.


Shirley Gleeson is a certified Forest Therapy Guide, Trainer and Mentor, a Nature and Wellbeing Consultant and the founder of EcoWellness Consulting Limited , formerly known as Nature, Health & Wellbeing Ireland. She lives in Dublin where she facilitates and develops public and clinical nature connection programs. Shirley holds master's degrees in both health promotion and social work and has over twenty years experience working in the areas of health and social care in the public and private sector. Shirley has extensive postgraduate training in ecotherapy, expressive arts therapy, counselling, stress management, dialectical behavioural therapy skills, behavioural family therapy and therapeutic use of mindfulness.


Alex Gesse is a certified Forest Therapy Guide, Trainer and Mentor, based in Portugal and Spain. Alex is the founder of the Instituto de Baños de Bosque and the Instituto de Banhos de Floresta de Portugal. He facilitates and develops nature connection and develops programs for companies and organizations, to reduce stress, to prevent Burnout Syndrome, to improve the well-being and to stimulate creativity and teamwork. Alex developed the KIDS&Forest Program for adolescents at risk of social exclusion. He is trained in business management, sociology, non-verbal communication and leadership. He holds an E-MBA by EAE Business School of Barcelona. Alex is the author of the book "Sentir el bosque: La experiencia del Shinrin-Yoku (baño de bosque)".

Praktiska detaljer

Kurskostnad
Utbildning och utbildningsflöde:

EFTI - Certifierad Skogsbadsguide (Forest Bathing Guide)
Datum: 16-22 maj 2019
Pris: 18 950 kr
Anmälningsavgift: 2500 kr
Betalas till:
Shinrin-Yoku Sweden,
Plusgiro: 89 49 60-4


EFTI - Certifierad Skogsterapiguide (Forest Therapy Guide)
Datum: 30 augusti - 1 september, (Stockholm)
Pris: 25 500 kr
Anmälningsavgift: 2500 kr
Betalas till:
Shinrin-Yoku Sweden,
Plusgiro: 89 49 60-4


Kostnad för kost och logi, (bokas på separat formulär och betalas i receptionen vid ankomst)
Enkelrum med egen dusch/wc: +6300 kr
Enkelrum med delad dusch/wc: +5700 kr
Del i dubbelrum med egen dusch/wc: +5400 kr
Del i dubbelrum med delad dusch/wc: +4800 kr
Del i trebäddsrum med delad dusch/wc: +4525 kr
Plats i sovalkov bakom draperi (inkl.madrass, täcke, kudde): +3925 kr


Anmälan
Observera att du anmäler dig i 2 steg:

1) Boka utbildning
Boka din utbildning genom att skicka ett mail till contact@shinrin-yokusweden.se
Betala in anmälningsavgift: 2500 kr
Shinrin-Yoku Sweden
Plusgiro: 89 49 60-4

2) Boka kost och logi
Fyll i bokningsformuläret för kost och logi genom att klicka här


Avbokningsregler
Anmälan är bindande. Anmälningsavgift 2 500 kr återbetalas inom en vecka minus 500 kr för administration. Efter full betalning återbetalas 50% vid avbokning senast 60 dagar innan kursstart. Avbeställning senare än 60 dagar före träning startar, ingen återbetalning erbjuds. Vid allvarliga hälsoproblem erbjuds återbetalning med 50% mot sjukintyg.

Information mat och boende
- Mundekulla serverar ekologisk och vegetarisk mat och erbjuder mjölk- och glutenfria alternativ för dig som önskar. Vi kan dock inte tillgodose tillfälliga dieter.
- Alla deltagare ska anmäla sig i receptionen vid ankomst.
- Tag med lakan och handduk. Kan också hyras för 100 kr/set i receptionen.
- Deltagare städar sitt rum efter kurs/retreat. Slutstädning kan köpas för 200 kr per rum vid ankomst. För icke utförd slutstädning debiteras 400 kr.
- Stearinljus får inte användas och husdjur får inte medfölja.
- Gruppen hjälps åt med disk efter måltider (enstaka diskpass).
- Tag gärna med kläder för skogs/naturvandringar.

Läs mer om kursen på arrangörens hemsida >>

Hitta till Mundekulla >>
Incheckning 16 maj
kl 16.00-18.00.

Därefter serveras middag med eftertföljande kursstart.

Kursen avslutas 22 maj kl 14.




EFTI - Certifierad Skogsbadsguide
(Forest Bathing Guide)
16-22 maj 2019
Pris: 18 950 kr

EFTI - Certifierad Skogsterapiguide
(Forest Therapy Guide)
30 aug - 1 sep, (Stockholm)
Pris: 25 500 kr
Enkelrum med egen dusch/wc: +6300 kr
Enkelrum med delad dusch/wc: +5700 kr
Del i dubbelrum med egen dusch/wc: +5400 kr
Del i dubbelrum med delad dusch/wc: +4800 kr
Del i trebäddsrum med delad dusch/wc: +4525 kr
Sovalkov bakom draperi (inkl.madrass, täcke, kudde): +3925 kr