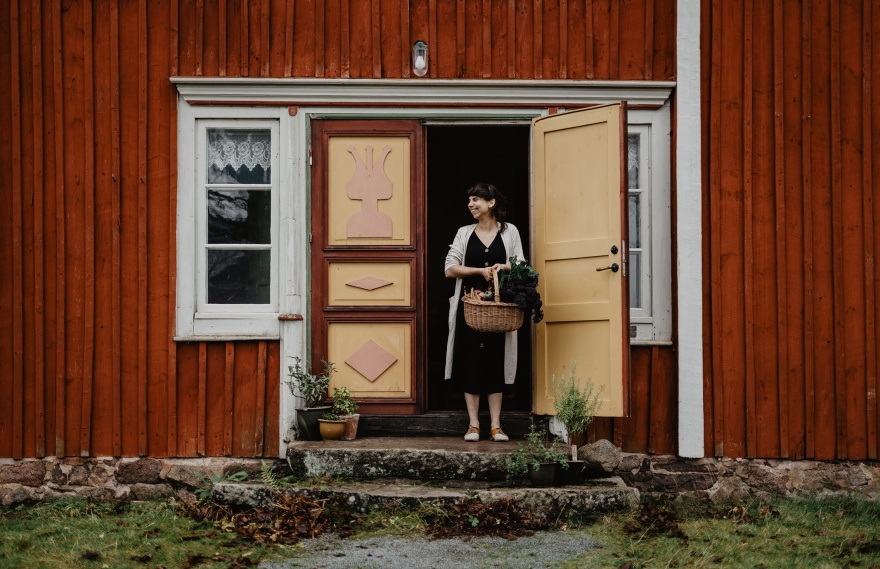 The Table and The Feast, April 8-12, 2020 - INSTÄLLT!
A retreat around vegan food, styling and photography
Retreat facilitators: Stephanie Verstift, Irena Krajnc Wouters, Merette Kuijt

På grund av det rådande läget är retreaten inställd.Vill du ha information om eventuella kommande retreater i detta ämne kontakta gärna Stephanie, se e-mailadress här intill. För frågor om övriga retreater och kurser på Mundekulla kontakta gärna oss på info@mundekulla.se.
Join us in the midst on the Swedish forests as we will gather in the peaceful surrounding of Småland with the typical red houses, endless woodlands and winding paths. We will enjoy beautiful food, good company and a high level of creative muse.

You will find new inspiration for the art of plating, beautiful and sustainable ways of styling and hands-on experience working with your own and group set designs. Last but not least you will learn great techniques how to capture your designs on camera. After five days you will go home with lots of amazing content and an invigorated skill set to continue that flow.

Whether you are a creative or a food lover - or both - we will provide you with a delicious winged week full of great meals, flowers, smiles, new knowledge, new ways of working and eating. Either to enjoy and to work on your professional skills in food making, styling and photography.

We're looking forward!

Food
We will enjoy and plate beautiful meals together. Exploring different ways of plating and cooking. Beauty, flavour and experiment are at the heart. Good company, laughs and relaxing are the cherry on the cake.

Favourite Flavour Makers & Making it Special
Playing with Variables: Shape, Colour & Texture
Different Tables: Buffet, Plating & Real Life
Local Farming & Circular Gastronomy
Love for Cooking and Embracing Experiment
​
Styling
An elevating learning curve from basics to advanced. We will explore from the small to the big and in different settings. A great way to discover and expand your signature style.

The Table: Basic Styling & Use of Props
Sustainable Styling Practices
Styling with Flowers
Concept Creation & Styling Challenge

Photography
There is so much magic in capturing beauty. We love photography as it makes it possible to share our creations, gatherings, recipes and designs with others. You will leave with sparkling content for your blog, book, website or personal collection.

Basics and Settings for Professional Camera or Phone
Variables for Photography: Angles, Light, Composition
The Art of Capturing Mood, Process & People
The Art of Editing

Flow of the retreat
Day1: Check-in / Welcome dinner / Kick-off
Day2: Art of plating / Styling & photography / Table settings / Food for thought
Day3: Flower workshop / Concept creation / The brief / Sauna
Day4: From idea to execution / Creative explosions / The feast / Relax & enjoy
Day5: Brunch outdoors / Reflections / Check-out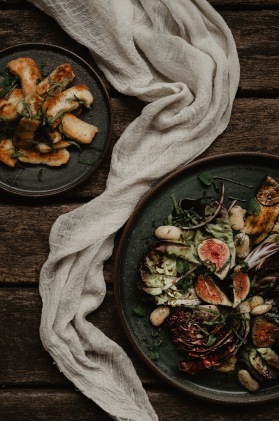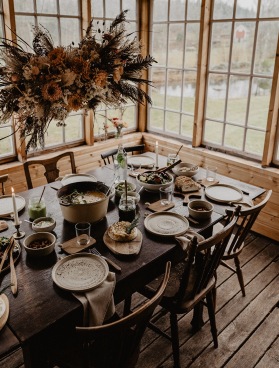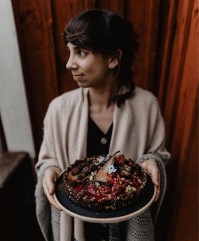 Stephanie Verstift (Mundekulla Cooks)

Originally from The Netherlands, Stephanie discovered the magic of Southern Sweden. She traded her work as a process facilitator and teacher in Service Design at Willem de Kooning Academy for the nordic countryside.

These days she is the head chef of Mundekulla Retreat Center, where she also develops educational programs connected to sustainability, food and garden. Lover of local and far, goodness inside out and creative explosions.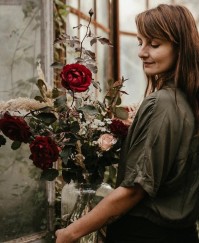 Irena Krajnc Wouters (Fig&Forest)

An art director and stylist, known as one of the girls of Fig & Forest. Graduated in Fashion & Branding at AMFI. She fell in love with the Swedish countryside one Midsummer night and decided to move there in 2019.

Passionate about handmade, local and thrifted goods. Her work has been featured by among others: Vegan Good Life, Home Magazine, Rock n Roll Bride and Table Magazine. Lover of plants, natural materials and foraged flowers.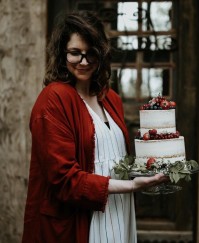 Wouters, Merette Kuijt (Witlof Workshops)

A true romantic with a passion for food and lifestyle. Five years ago she moved with her husband from Amsterdam to the east of The Netherlands where they're creating their dream home in an urban farm.

As a founder of Witlof Workshops, Merette gives workshops with other photographers and creatives where aesthetics and storytelling play a major role. Lover of bright smiles, bonfires and exploring new and familiar places.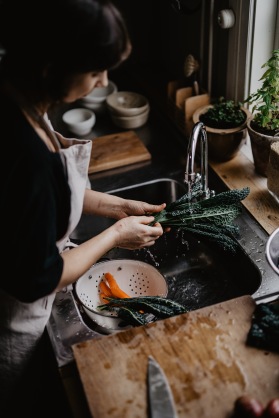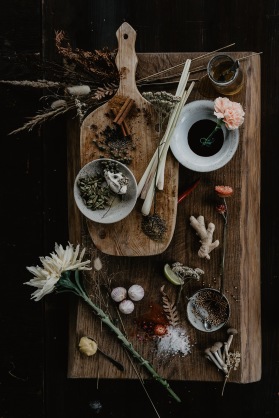 Practical information
Accomodation and Prices
We stay at Mundekulla Retreat Center in the forests of Småland, Southern Sweden. A beautiful area characterized by red houses, old barns, meadows, ponds, old oaks, stone walls and lots of pine. Mundekulla has creativity, peace and sustainability at its core.
​
We serve ecological meals and work together with local farmers for beautiful fresh produce. Our meals are vegan (some meals will be served with vegetarian side options).
​
Option 1:
Single room, ensuite bathroom & toilet,
1400 euro
incl. VAT/MOMS
Option 2:
Single room, shared bathroom & toilet,
1300 euro
incl. VAT/MOMS
Option 3:
Double room, ensuite bathroom & toilet,
1200 euro
incl. VAT/MOMS
Option 4:
Double room, shared bathroom & toilet,
1100 euro
incl. VAT/MOMS
The course fees includes all workshops and materials, excursions, accommodation, linens and all meals. The price depends on the accommodation you choose. Travel costs are not included.

Booking and cancellation policy
Book your course by sending us a message at stephanie@mundekulla.se with your preferred option. Your booking is confirmed when we receive your payment.

Course fees can be paid at once or in 2 terms (2 x 50%) . The first term is paid directly as a booking fee to confirm course is booked. The second term must be paid latest by the 31st of March 2020. Make sure you can attend the course and that it fits your needs. No refunds are possible, but you can transfer your spot to another person. Prices are including VAT.
​
Make your transfer to: Stephanie Verstift FTG
IBAN: SE62 9500 0099 6042 0962 9437
BIC: NDEASESS


Bring a camera
Bring a camera or a phone for photography.
For editing we recommend to have Adobe Lightroom installed on the phone or a laptop (you can get a free trial subscription for it for 7 days just before arrival).
Towels, bed linens and cleaning are included.


Information on practicalities
All participants should check in/register in the reception upon arrival to Mundekulla
Towels, bed linens and cleaning are included.
Course participants help out with dishes after every meal (2-3 persons/meal)
It is not allowed to light candles on the facilities
Unfortunately no pets allowed.
It's good to bring clothes and shoes for nature walks
No alcohol or drugs are allowed on the premises, but tasty mocktails will be served richly.
Address and traveling possibilities
You can fly to Copenhagen Airport from where you can take a direct train to Emmaboda station. You can also fly to Växjö (Småland Airport) and take the train to Emmaboda. From Emmaboda to Mundekulla Retreat Center you can get a taxi on a discounted rate. (Taxi Emma +46 471 101 00)
​
For those coming by car: here are free parking possibilities on the premises. ​
Address: Mundekulla 101, 361 95 Långasjö, Sweden

More info about travelling here:
How to get to Mundekulla

More information
For more information email: stephanie@mundekulla.se
Arranger's website: thetableandthefeast.com

Picture credits, all photos on page: Elaine Lilje Fotograf
Check-in 16.00-18.00 on April 8.
Dinner is served at 18.30.

The retreat ends at 16.00 on April 12.

Option 1: Single room, ensuite bathroom & toilet, 1400 euro incl. VAT/MOMS
Option 2: Single room, shared bathroom & toilet, 1300 euro incl. VAT/MOMS
Option 3: Double room, ensuite bathroom & toilet, 1200 euro incl. VAT/MOMS
Option 4: Double room, shared bathroom & toilet, 1100 euro incl. VAT/MOMS

The course fees includes all workshops and materials, excursions, accommodation, linens and all meals. The price depends on the accommodation you choose. Travel costs are not included.